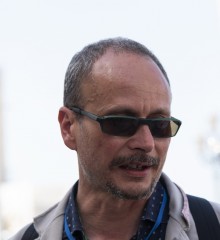 My name is Giampaolo Nanula, and I am a professional tour guide.
I love doing this job and it shows. Since I was a child I have always said: "when I grow up I will be a tourist guide".
In reality it is not true: like so many others I found myself doing this work by chance; it was the makeshift job waiting for more to come.
Then more came, but that point was clear to me that my is driving.
Because you have to put passion into this profession if you want it to work. I also put my imagination into it and I invented a lot of things: costumes, images, tea towels, jokes at the right time to regain attention.
Because to be there to say the dates and say the style of the capital, I really don't want to, and I don't really know how useful it would be, that after thirty seconds you have already forgotten about it.
But no, I tell you about other things, I tell you about the time of the ancients, who they were as they lived, and why they created these masterpieces that have come down to us.
My idea is that a tourist is a person on vacation who wants to spend a nice day in a place he does not know and who wants to know something about this place, because he has heard of it, or because he is excited and does not know why. I tell him why.
You pay me because I have 10 years of experience behind me, and I know every hole in this region, every street, every church, every castle, village lost in Salento, every souvenir shop, every restaurant, every toilet (you always need to know where I'm).
You pay me (and well) because I adapt myself to you, to your always tight times, to your tastes, sometimes to your preconceptions, to how tired you are, to weather conditions, and to your cultural level.