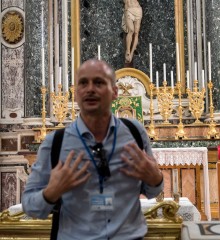 Authorized tourist guides
Apulia specialists
Welcome to the heel of Italy. Puglia is ready to welcome you.
Jumpytravel offers the tourist guide service for all Puglia and Matera.
I have prepared information sheets on the main tourist destinations in Puglia, near the links on the left.
In these tabs you will find useful information especially for those who organize group trips: monument times, entrance fees, paid parking, where to pee ...
For many cities there is also a map with the usual rules we follow: I think it is useful for those who do not know our cities to better make the outline of the timing and distances. In principle we will follow these routes, but obviously the routes may change based on weather conditions, tiredness or greater or lesser desire to walk in the group.
There is no historical-artistic information on the monuments that instead are easily found on other sites such as Wikipedia.
For any further information, advice or for rates, please do not hesitate to contact us.
Dottor Giampaolo Nanula Tel. +39 333 2637942
email: info@jumpytravel.it
Why should you choose me?
I am not a tour operator, nor a service agency, nor a pro-loco. I only provide the tourist guide service who actually has the same love or a colleague I know. This is precisely why my rates are those of the guide service, at no additional cost. Unlike many of my competitors, I have never received any kind of public funding, and I have no relationship with political parties, apt, pro-loco, curie, and institutions in general. I live only from my job and for this reason they are reliable.
My idea of turism is.....
The tourist is a person on vacation, who is here to spend a nice day in a place he doesn't know and wants to know something about, he is not here for an art history lesson.