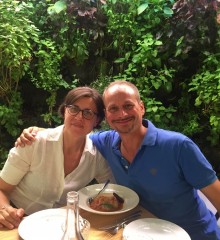 Official tourist guide
Specialists in tours of Apulia
Welcome into the heel of Italy's boot. We are ready to show you Apulia, one of the most interesting destination in the shout Italy. We can offer you tourist guide service, and assistance for Lecce, Alberobello, Castel del Monte, Ostuni and the entire territory of Apulian Region and Matera. We have created some fact sheets (on the left) on the major tourist destinations. You can find them the opening hours of the main apulian  monuments, the cost of entrance fees, and lots of useful information for those who organize tours. For further infomation and rates do not hesitate to contact us.
Mr. Giampaolo Nanula Tel.  +39 333 2637942
email: info@jumpytravel.it
Why should you choose us?
We are not a travel agency or a tour operator, we can just provide the tourist guide service that we do personally or by some guides that work with us since many years. We have no relationship whit political parties, the curia, and public administration in general. We live only in our work. We don't work for a city, we work for you.
Our idea of tourism is
You are here to have nice time, and you want know something about what you see, not to receive a lesson of history of art.